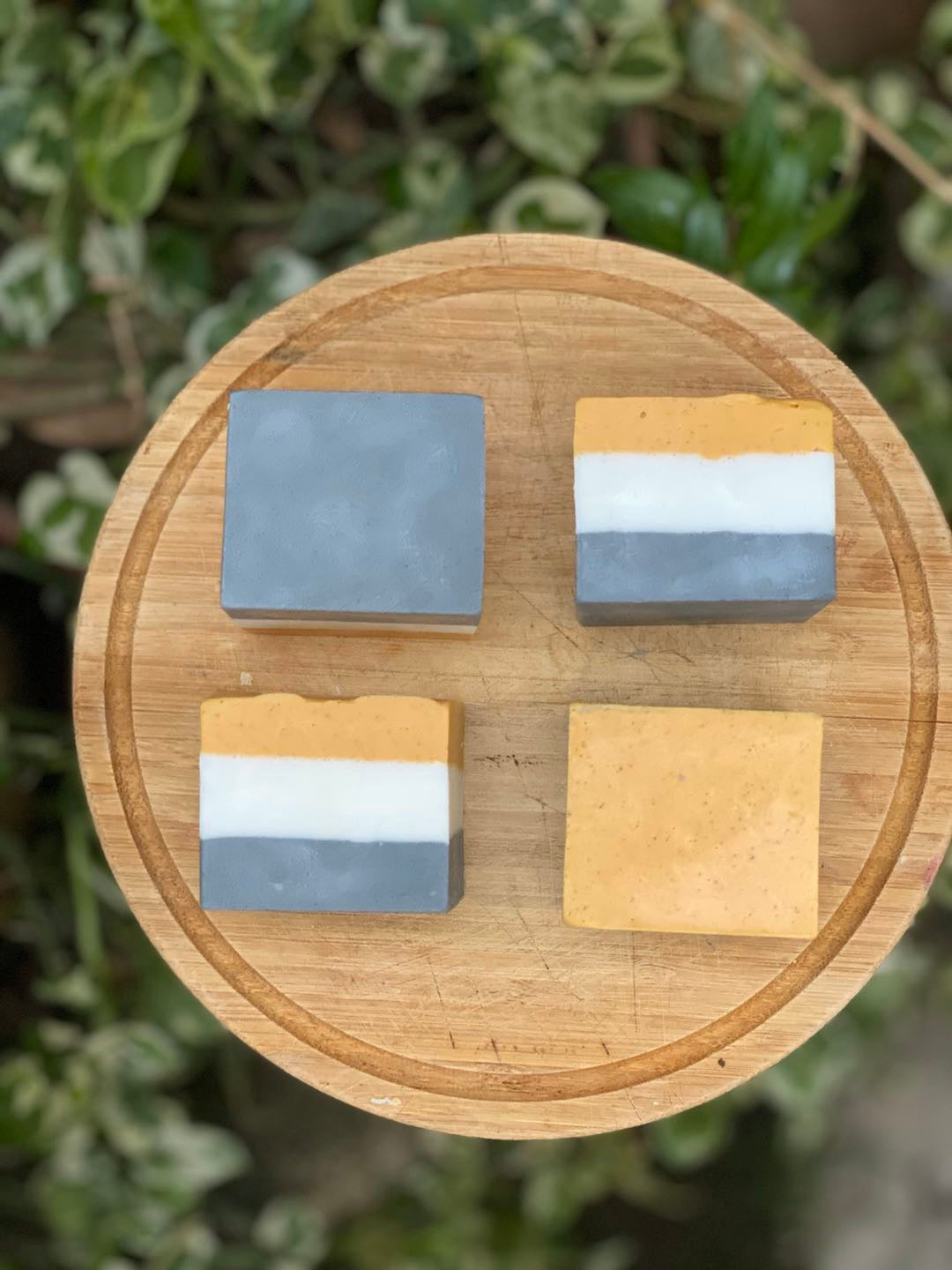 "SPICED SUDS" Melt and Pour with Kitchen Spice Project
This quarantine, we ran out of gloves and ran out of oils - among other things. We focused all of our remaining energy to learning all we can about our melt and pour soap base. We may know the basics, but you'd be surprised to find little bits of information that can help you achieve your desired results!
We especially found these videos and blogs with very useful Melt and Pour Soap Base techniques:
Candle Science Melt and Pour Soap For Beginners Video
Melt and Pour Soap-Making by Anne-Marie
With supplies running low, we considered doing some research on using ingredients from our kitchen to incorporate in our recipes. We've searched the internet and blogs and have found soapers using turmeric, curry powder and other interesting spices! All it takes is a little creativity and resourcefulness! 
Without further ado, here is my experience with making this beautiful soap.
Spiced Suds NOTES:
TECHNIQUE: Layered Melt & Pour Soap
DIFFICULTY: Easy-ish
SOAP-MAKING SKILL LEVEL OF MAKER: Rookie
To watch the video, click here.
Ingredients:
Goat's Milk Melt and Pour Soap Base - this is an organic and moisturizing soap with a soft creamy lather. Perfect for sensitive skin!
Turmeric Powder - has anti-inflammatory properties that can reduce redness on the skin and anti-bacterial properties that help combat acne.
Activated charcoal - absorbs impurities and toxins and also combats acne.
Cinnamon Spiced Vanilla Fragrance Oil (from the Flaming Candle) - is a mix of cinnamon, clove and vanilla, is Phthalate free, and can be used for soaps and lotions. 
TOOLS:
Melt and Pour Soap Starter Kit: With the 4-inch Soap Mold
Electric Hand Mixer
DIRECTIONS:
1. Dilute Turmeric powder and Activated charcoal with alcohol. Use an electric hand mixer to make sure there are no clumps. Set aside.
Proportion: 1tsp powder: 3 tsp alcohol (adjust accordingly)
2. Chop 500g of Goat's Milk melt and pour soap base. Place in a heat-safe container. Divide your soap base into three. Use a weighing scale for accuracy.
Note: In the video, I melt them all at the same time. I had to re-heat while making the layers.
3. In 30-second intervals, melt the soap base for the first layer in the microwave. Stir to melt remaining soap blocks. Work quickly.
4. Stir the melted soap base occasionally to avoid a layer forming on the surface.  Add in your fragrance oil and activated charcoal.
5. Spray the soap mold with rubbing alcohol. Pour the bottom layer (with activated charcoal). Spray with rubbing alcohol. Let the layer cool down. Repeat step 3 and 4 for the remaining layers.
6. Check the second layer soap base's temperature. If it's less than 54 Degrees Celsius, pour it over the hardened layer. Spray with rubbing alcohol.
7. Repeat the procedure for the last layer. Spray with rubbing alcohol.
8. Let it cool completely. We let ours cool down for around 5 hours. For best results, wait until the next day.
9. Un-mold and slice! Place in an airtight container to prevent sweating.
MISTAKES I MADE:
1. I melted ALL 500g of my soap base. To avoid having to re-heat your soap base, just melt the soap base for each layer separately and as needed. This is a very small batch, so the soap cooled down very quickly. It may be different if working with a bigger batch.
We want to avoid over-heating the soap so it doesn't burn. I haven't personally experienced it, but others have mentioned it would smell off.
2. I waited too long to spray alcohol to get rid of the bubbles. We used a heat gun to melt the top layer. Then, we sprayed it with alcohol to pop those bubbles and make it smooth.
3. I poked the hardening soap base with a spatula! It wasn't pretty. 
CONCLUSION:
Overall I'm very satisfied with how this soap turned out. One thing I would probably change is the amount of fragrance oil. Personally, I like a more subtle scent. However, they nevertheless, smell divine!
There will be a bonus video for the two lovely square soap blocks I call "Throw-me-not".