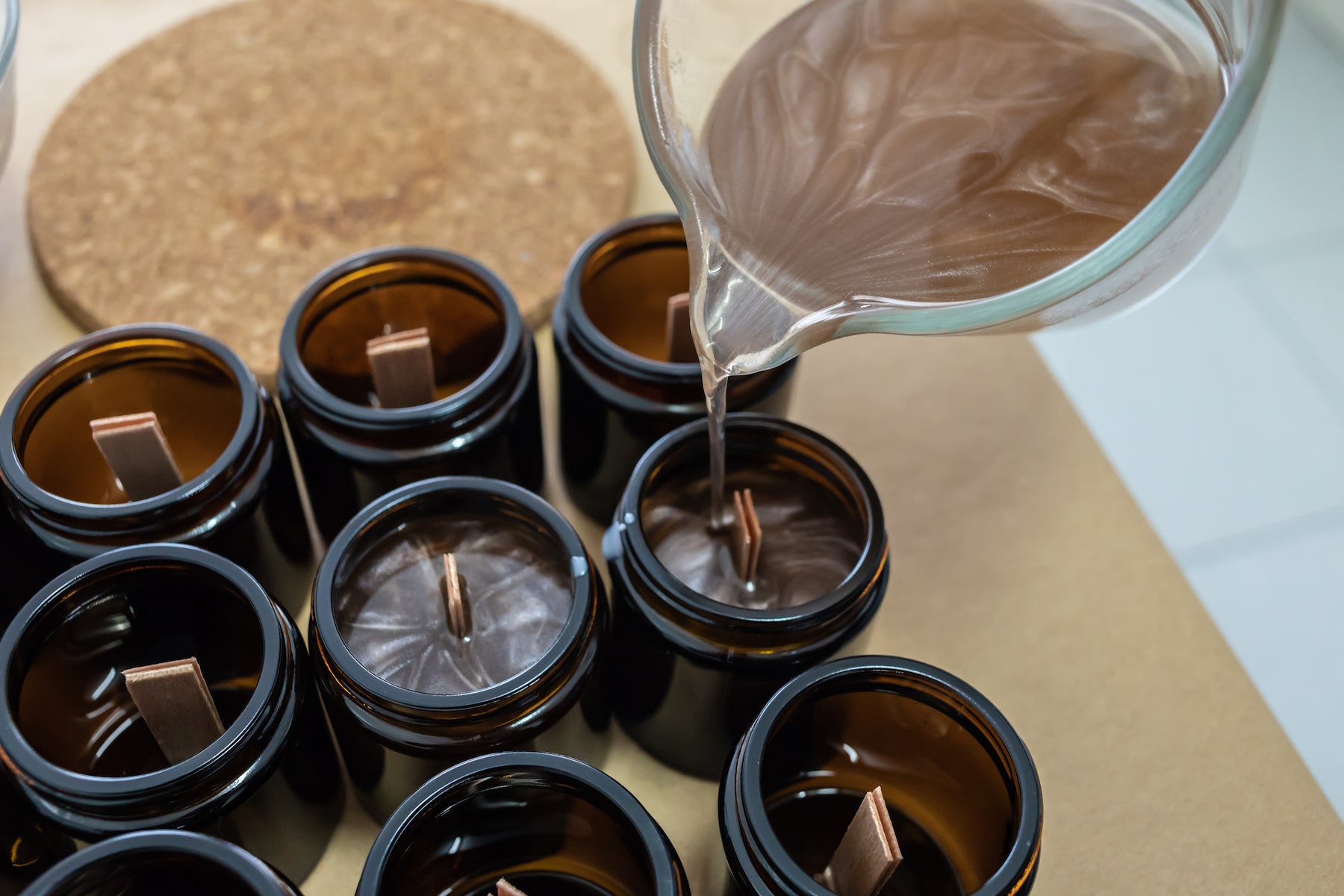 Candle Formulation Guide
TYPES OF WAXES
Soy wax is a natural, vegan and eco-friendly wax. It burns slower and cleaner compared with most waxes. However, soy wax will (inevitably) shrink in its container, causing an uneven burn when used alone. Although it does not affect the candle's performance, it could affect the candle aesthetically which can be an issue especially if you're selling them.
Beeswax is a natural wax produced by honey bees. It has a higher melting point, thus burning longer than most waxes. Like soy wax, it is also a great alternative for paraffin wax because of its air purifying properties. 
Coconut wax is a soft wax made from hydrogenated and refined coconut oil. In addition to soy and beeswax, coconut wax is also considered one of the cleanest alternatives for traditional paraffin candles. 
Other waxes used in candles include gel wax, paraffin wax, and palm wax.
CANDLE WAX FORMULA
While almost all waxes can be used at 100%, mixing waxes can help improve the candle's performance. We personally like adding a small amount of beeswax to our soy candle for a smoother burn. 
We love a Beesoy ratio of 90:10. We used this formulation in our Green Tea & Bergamot Soy candle project (Watch it here). Feel free to add coconut wax to the formula. Be sure to keep in mind that coconut wax will make the consistency of your candle soft. Beeswax, on the other hand, will harden the consistency of your candle.
Not all candle formulations work for everyone. It is always recommended to do your own testing to figure out what formula works best according to your preference.
CALCULATING THE FORMULA.
While we try our best to include the recommended amount of liquid for our containers, we will share how we like to calculate the wax needed for a particular container. 
Here's our formula for the wax weight per container:
Capacity of the container x 75% = Wax weight per container
Example: 500ml x .75 = 375 (grams of wax)
Now that we have the wax weight per container, we will just multiply it by the number of jars we plan to make.
Wax weight per container x number of jars per batch = Total wax weight
Note that the total wax weight also includes the fragrance oil. To compute for the fragrance oil and wax needed per batch, we follow this formula:
1) Total wax weight x Fragrance oil load (e.g. 8%) = Fragrance oil needed
2) Total wax weight - Fragrance oil needed per container = Amount of wax needed
Other related posts: