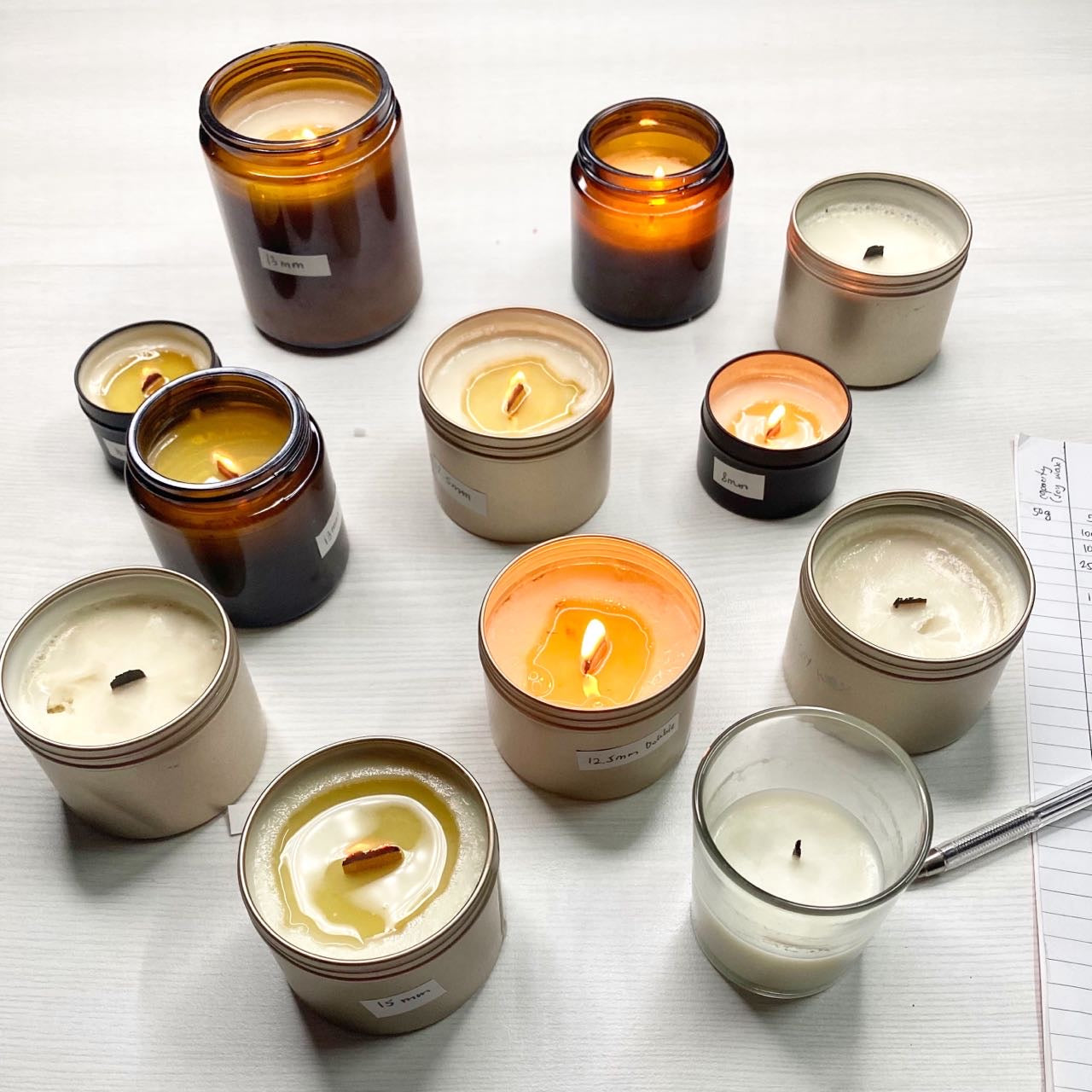 How we conduct a burn test
There are many articles and youtube videos out there about conducting a burn test for candles. Every DIYer has their own way of testing - which are all perfectly acceptable. 
These are the common reasons for conducting a burn test:
1. Candle Safety 
Is the flame too high?
Can the container withstand the heat?
2.  Wick size
Did your candle finish burning all the wax all the way to the bottom of the container? Do you need to wick up or wick down?
3. Hot throw
If your candle is scented, can you smell the fragrance?
Is the scent too weak or too strong?
4. Determining effects of additives
Did additional ingredients like colorants, fragrances, vybar, or other types of waxes change your candle's overall performance?
After answering all the questions above, you should be able to have your perfect candle!
Depending on your goals, your burn test could go different ways. Here are the different scenarios for how we conduct our own burn tests.
TIP: ALWAYS LABEL YOUR CANDLES
BURN TEST for WICK SIZE
1. Select a container. Decide what wax or waxes to use and your formula.
2. Start with the wick size recommended by your supplier or refer to our wick and container size guide (coming soon).
3. Make the candle and let it fully solidify. 
4. Light the candle and let it burn in 4-hour intervals. Let the candle completely cool down in between burn tests. Trim the wick as needed.
Be sure to record every little detail such as the formula you used, melting and pouring temperature, room temperature, etc. You can download our burn test template by entering your email at the form below.
5. Check if you've reached a full melt pool. Every DIYer has a different opinion on this. But the most important thing is that all the wax melts eventually as you burn it in 4-hour intervals. 
BURN TEST for WICK SIZE with ADDITIVES
Once you've established a base wick for your basic formula and container, you'll have to test it again if you decide to add fragrance or color. Add each additive to your base formula one at a time and conduct a burn test. You may need to wick up or wick down.  
BURN TEST for FRAGRANCE OILS' HOT THROW
1. To be consistent, for initial tests, we use 100% soy wax and a wooden wick to test for hot throw. We start the fragrance load at 6%.
2. Let it cure for 2 weeks.
3. Since we use a small candle, we light it up in a small bathroom. We leave it lit for at least one hour, with the door closed.
4. We score the cold throw and hot throw of 1 (no smell) to 5 (strong). Typically, we include those that achieve a hot throw score of at least 4 before we decide to include them in our fragrance collection. 
Scent is subjective, what might smell good to me, stinks for you. Similarly, what might smell strong for me, might smell light to you. Having said that, all our recommendations are based on our personal opinion and preferences. We have sniffing sets and sample sets to help you decide if you love or hate the scent! 
BURN TEST for OVERALL CANDLE PERFORMANCE
When the candle has passed the wick test (including all your additives), it's time to conduct a full burn test. We burn the candle in 4-hour intervals until all the wax has been consumed. 
SIGNS OF FAILURE defined by ASTM F-2417 is when the candle:
Has a flame greater than 3" (3.5" if it's a religious candle)

Damages the surface it's on (usually by scorching it)

Has more than one flame per wick (secondary ignition)
And most candle makers also "fail" a candle if it:
Has container wall temperatures greater than 140°F – 150°F

Creates significant mushrooms on the wick

Gives off a lot of soot and black smoke while burning
If the candle shows any of the signs mentioned above, then you'll need to make some adjustments. 
We'd like to share with you our burn test recording sheet! Just enter your email below to receive the download links!
How do you conduct your own burn test? Let us know in the comments below!