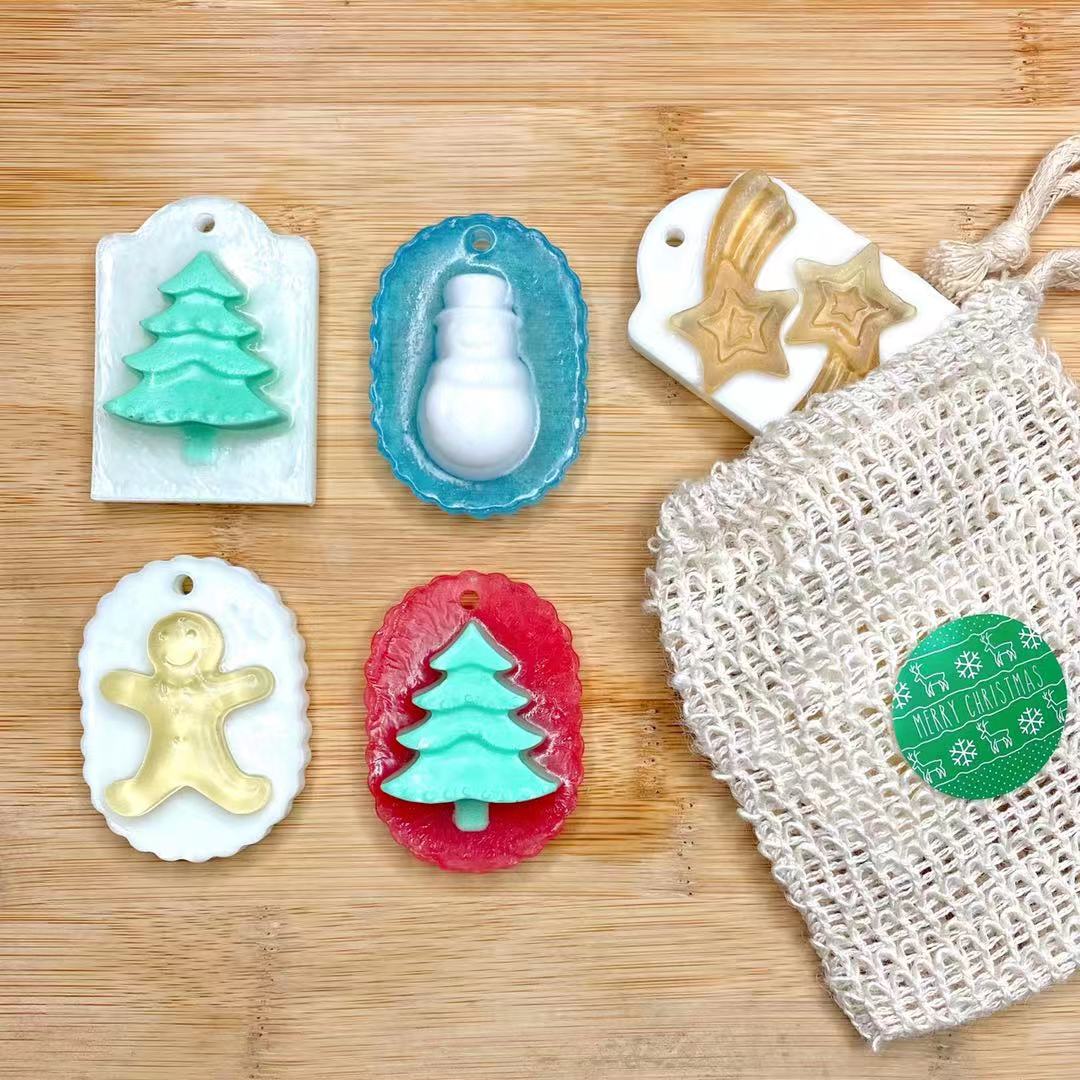 DIY Holiday Gift Ideas 2020
Christmas is just around the corner! If you're still wondering what to give your friends and family, then we hope this list inspires you.
#1 Mini Christmas Soap Bars
Tools you need:
Easy Pour Cups/Microwavable Container
Ingredients:
Isopropyl Alcohol
Packaging used:
Cling wrap
 Procedure:
FOR EMBEDS: Chop your soap base into small cubes.
Melt in the microwave in short 30-second intervals and stir.
Add your fragrance oil. (Measurements here)
Pour into your embeds and spray with isopropyl alcohol.
FOR THE BASE: Chop your soap base into small cubes and melt in the microwave.
Add a color of your choice and your fragrance oil.
Pour a thin layer in the wax mold (about 50% of the cavity). Spray with alcohol.
Place your embed and pour a little more soap base until your embed is partially submerged. Spray with alcohol and leave it to dry. I un-molded mine after 2 hours!
#2 Pure Coconut Holiday Bars
Tools you need:
Electric Hand Mixer
Ingredients (For 400g soap - used the 4-inch mold):
*Superfat: 20%
Caution: PLEASE USE A SOAP CALCULATOR TO DOUBLE CHECK YOUR FORMULA 
Caustic Soda/Lye 

58.64g

Distilled Water 100g
Fragrance oil

12.40g

Dandelion Gold Mica Powder
Procedure:
Prepare your lye solution. Let it cool down at about 120°F-130°F (49°C - 54°C)
Mix in your coconut oil. Use a stick blender to achieve light trace.
Split the soap batter into two (1/3 for green and 2/3 for white). Add green vibrance into one and titanium dioxide into the other (amount depends on your preference).
Pour the green soap batter into the mold. To create an hombré effect, slowly add in white soap batter into your green batter. Tip your mold by elevating one side. 
Let it cure overnight. 
Slice your soap block. 
STAMPING: Be sure to press/hammer on all sides. You may choose to dip your soap stamp into a mica/alcohol solution for added flair!
Cure for four more weeks before using!
#3 Hand-Poured Holiday Candles
Tools you need:
Ingredients:
For 1 (100g) Aluminum Tin Jar
Beeswax granules 

50g

Soy wax flakes 

50g

Candle Dye chips (Add according to your preference)
Fragrance Oil 10g
Wooden Wicks (15mm) *Still in trial stage with matching the wicks with a suitable container to achieve full melt pool.
Procedure:
Melt your waxes in a pot in medium heat - stirring occasionally.
Add in your candle dye chip. Be sure to start with a small amount, as a little goes a long way!
At 185°F (85°C), add in your fragrance oil. Stir for at least two minutes for the fragrance oil to be fully incorporated.
Secure your wick in the middle. Trim the wick, leaving about 2mm above the wax level. At 135°F-150°F (57°C-65°C) , pour your wax into the container.
Let your candle cure for at least 48 hours.
DISCLAIMER: This serves as a guide for your DIY crafts and are not meant for sale. Please conduct your own research and experiments and practice safety measures!