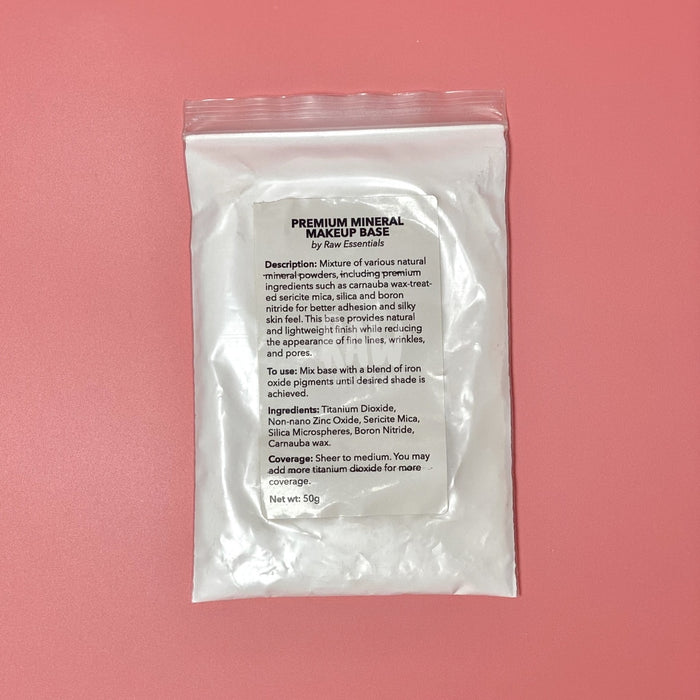 Premium mineral make up base - 500g
PREMIUM MINERAL FOUNDATION MAKEUP BASE
We would like to share with you our version of DIY mineral make up with this mineral make up base!
Description: Mixture of various natural mineral powders, including premium ingredients such as carnauba wax-treated sericite mica, silica and boron nitride for better adhesion and silky skin feel. This base provides natural and lightweight finish while reducing the appearance of fine lines, wrinkles, and pores.
To use: Mix base with a blend of iron oxide pigments until desired shade is achieved. Rub in a ziplock bag, mix in a coffee grinder, or use a mortar and pestle to avoid powder streaks in the final product.
Coverage: Since this base is packed with skin enhancers, it only provides sheer-medium coverage. You may add more titanium dioxide until desired coverage is achieved.
Ingredients: Titanium Dioxide, Non-nano Zinc Oxide, Sericite Mica, Silica Microspheres, Boron Nitride, Carnauba Wax.
PREMIUM EYESHADOW & BLUSH BASE
Ingredients: Carnauba wax-treated Sericite Mica, Silica Microspheres, Titanium Dioxide, Boron Nitride.
*Every skin type reacts differently to different products/formulation. We have provided the complete list of ingredients of this make up base. Discontinue use of the final product if irritation occurs.