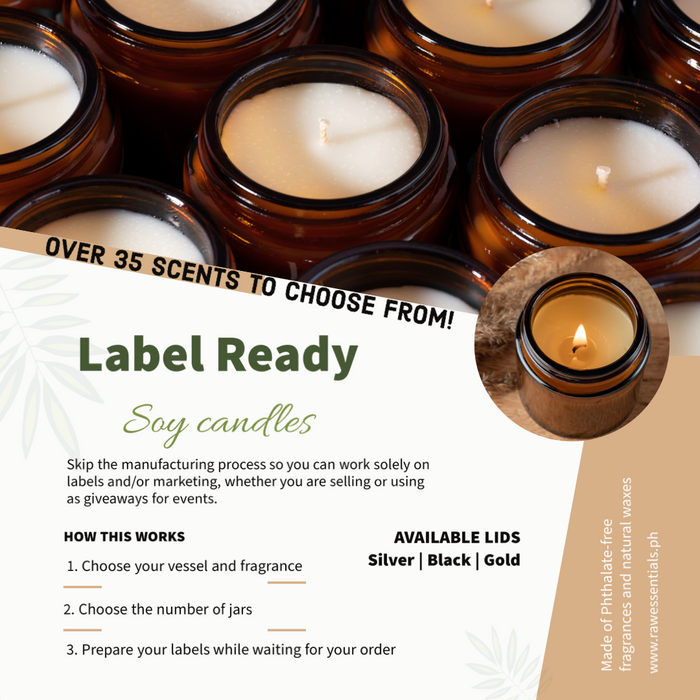 Scented Soy Candle (Amber Glass Jar w/ Lid) - Ready to label
Skip the manufacturing process so you can work solely on labels and/or marketing, whether you are selling or using as giveaways for events.
IMPORTANT NOTE: If this is your first time purchasing this candle, we highly encourage you to try the minimum order quantity (10 units) so you can assess whether it fits your standards/requirements before ordering a large quantity.
Choose your fragrance from the list below (Subject to availability): 
Amaretto
Apple Cinnamon
Blackberry and bay
Blackberry and Spice
Caramel Macchiato
Carrot
Coconut
Coffee & Chocolate
Cool mint
Cranberry Crush
Creamy lavender
Cucumber Melon 
Espresso 
Forest linen
Fresh Linen
Ginger Brew
Green Tea
Green Tea and Bergamot
Honeydew Melon
Juniper
Lavender and Chamomile
Lavender Mint
Lemongrass and Ginger
Lime Truffles
Mango & Lemon
Pear Spice
Peony and blush suede
Roasted bread
Roasted coconut
Sakura
Sandalwood and Vanilla
Sugar Coffee
Tobacco Vanilla
Vanilla Spice
Watermelon
Wild Bamboo
Wax blend: Soy wax, coconut wax, beeswax
Phthalate-free: Yes
Wick type: Cotton
Vessel type: Amber glass jar with lid (Silver, Black or Light Gold)
Vessel size: 100ml / 250ml
Order lead time: Minimum of 7 days
100ml
Recommended label size: Top (5cm diameter) ; Bottom (4cm diameter) ; Jar (maximum height 4cm x adjustable width 5cm)
Burn time: 
Recommended area: Bathroom, small living area or workspace, small bedroom
250ml
Recommended label size: Top (6.3cm) ; Bottom (4.5cm) ; Jar (maximum height 6.5cm x adjustable width 5cm)
Burn time: 
Recommended area: Bathroom, small office, bedroom, living room
CANDLE CARE (Click here for a more comprehensive candle care guide)
Do not burn unattended. Keep away from children and pets. Keep away from combustible items. Place lit candle on heat resistant surface and out of drafts. After first burn, always trim wick before lighting. Do not burn for more than 4 hours at a time.
Terms and Conditions
Payment: 50% downpayment is required upon placing an order. This is non-refundable. The remaining 50% is due when the product is ready to ship out.
Ship out date is the target date for Raw Essentials to send your order off through your choice of shipping company. Raw Essentials will inform the customer ahead of time if there is a delay.
Raw Essentials will not be held responsible for delays caused by the shipping company.
NO RETURNS, REFUNDS or EXCHANGES. We are unable to accept refunds, returns and exchanges for custom orders.
5.  Follow the usage and safety guidelines provided by Raw Essentials. Raw Essentials will not be liable for any accidents caused by the misuse of our products.