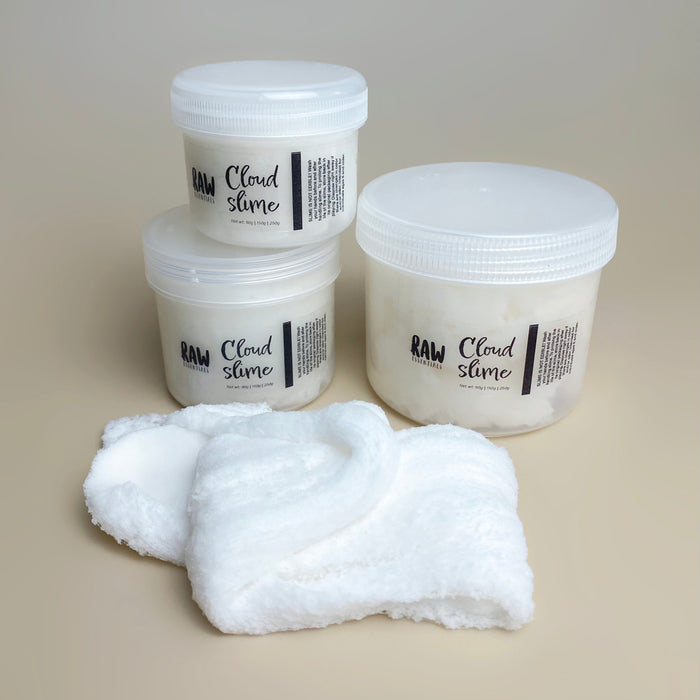 Cloud Slime Base - 80g / 150g / 250g
Sign up for restock notifications!
Main Ingredients: Glue, Borax, Water, Snow Powder
Scent:Milk
Color: White
This slime base can be customized by adding your preferred charms, color, and scents!

Cloud slime care guide and info:
● Always store in a tightly-sealed container.
● Play no more than 8-10 minutes at a time to prevent it from drying up.
● Wash and dry your hands before and after playing with slime.
● Cloud slimes will leave snow residue on hands or surfaces. This is completely normal and inevitable for all cloud slimes.
● Prolonged or frequent exposure to air will eventually cause the slime to dry up. To fix this, simply mix in glue until desired consistency is achieved.
● If you're new to cloud slime, it will take a lot of practice to achieve the perfect drizzle. Good luck and enjoy!

Important Reminders:
While the ingredients are all safe, please be mindful of using the slime when you have sensitive skin.
Not suitable for children under 8 years old.
Parental supervision is advised for younger children.

RETURN POLICY:
In order to preserve the quality of the products, we are not able to accept returns of raw materials unless you received the wrong item. Please be sure to test the product before purchasing in large quantities.