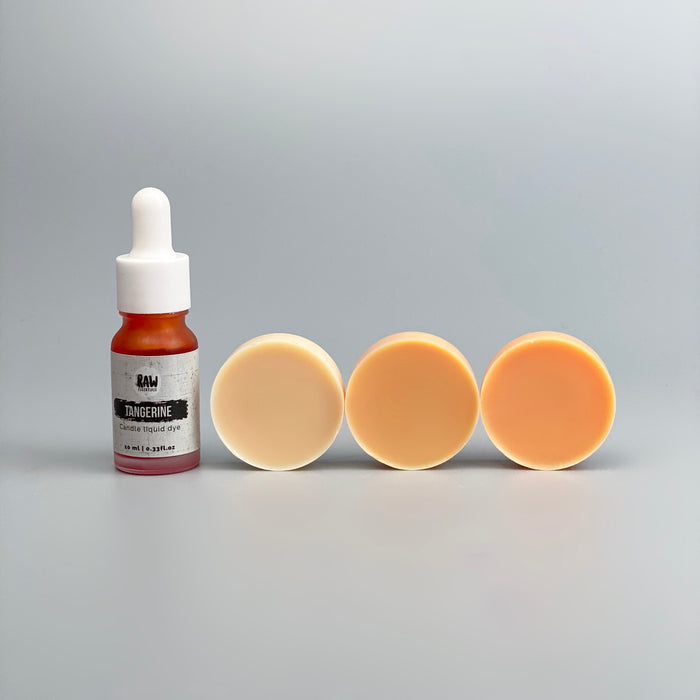 10ml Liquid Dye (Colorant) for Candle, Soap, Resin, Slime
Sign up for restock notifications!
10ml Liquid Dye
Swatch formula: 2 drops - 5 drops - 10 drops (10g of Raw Essentials' 50:50 beeswax and soy wax blend)
Applications: Beesoy, gel, and paraffin candles, soap (not for bath bombs), slime, resin. Not recommended for pure soy wax candles and palm wax. If using pure soy wax, we recommend using our candle dye chips - it is applicable for almost all types of waxes. 
Usage: Add the dye at above 60°C to avoid solidifying the liquid pigment.
Note: We highly recommend doing your own testing as the outcome also depends on the type of waxes used. Actual color may slightly differ from photo.
***BATCH UPDATES***
November 12, 2022 (New and improved formulation) - Tangerine, Bright Yellow, Baby Blue, Violet, Earthy Brown, Perky Pink, Red Velvet, Apple Green, Spring Green
April 4, 2023 (Changed packaging to more convenient and easy to use plastic dropper) - Deep purple, Ocean blue, Red velvet, Teal
April 4, 2023 (New and improved formulation same with Nov. 12, 2022 batch) - Ocean blue, Teal