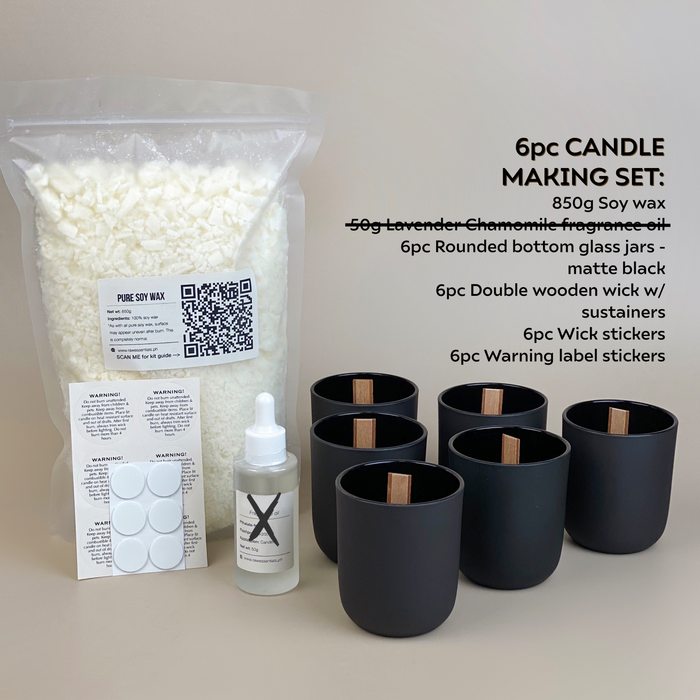 6pc Lavender Chamomile Soy Candle Kit
Sign up for restock notifications!
Candle making has never been this easy! This kit requires no scale as all ingredients are pre-measured. All you need to do is melt the soy wax (prep your containers while waiting for the wax to melt), add the fragrance oil, mix, then pour into your wicked containers - Perfect for beginners and hobbyists!
A more detailed Candle-Making Guide can be found here. 
NOTE: The scent included in this set is fixed and irreplaceable. If you prefer another scent, choose no fragrance oil so you can use your own or order your preferred scent here.
This kit makes 6 pure soy candles.  Soy wax is a natural, vegan and eco-friendly wax. It burns slower and cleaner compared with most waxes. However, soy wax will (inevitably) shrink in its container, causing an uneven burn when used alone - it does not affect the candle's performance, only the aesthetics. If this is an issue, this kit may not be for you. No worries! We have something you might like - our Beesoy candle kit available in another listing.

Each set includes:
850g Soy wax
50g Lavender Chamomile fragrance oil (if you choose "w/ fo" from variation)
6pc 200ml Rounded bottom glass jars
6pc Double wooden wick w/ sustainers
6pc Wick stickers
6pc Warning label stickers
Other supplies needed:
Digital candy thermometer or infrared thermometer
Stirring utensil
*optional   
Terms and Conditions
Limitation of Product Liability/Product Safety/Product Information 
Our products are only meant for the use stated in the description. Raw Essentials is not responsible for any misuse, accidents, or mistakes made in the use of our products. We make an effort to provide as much information as we can on our products. We are not responsible for your understanding on how you use our products. You MUST do your own research and conduct experiments for your desired results. 
Policies and Terms for Damaged/Defective Items:
Reports of wrong items/damaged items/defective items must be made within 3 days of receiving the order. We may ask you for proof of the damaged products. After 3 days, we are not able to make any adjustments to your order. We urge you to check your items upon receipt and to reach out to our customer service so we can assist you.
Read our Policies and Terms for more information.