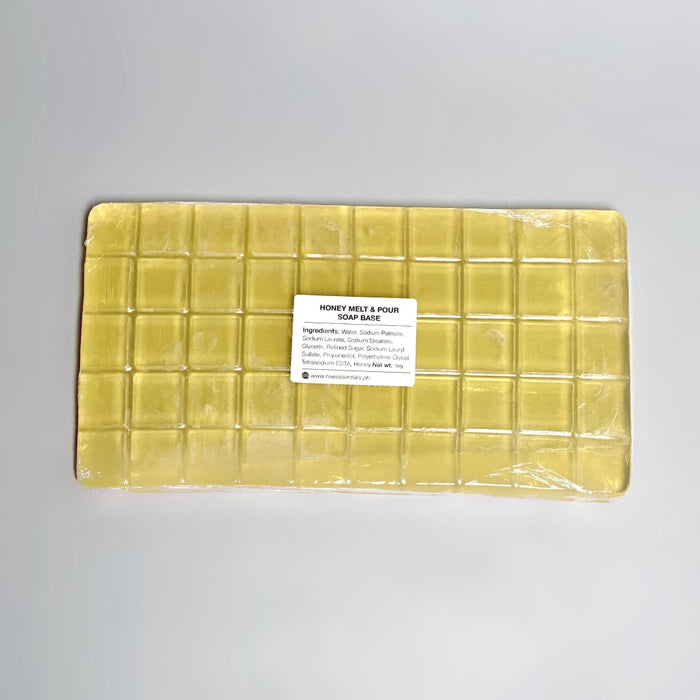 Honey Melt and Pour Soap Base
Sign up for restock notifications!
This soap base is very easy to use. Simply chop into small chunks, melt in the microwave in short bursts, and add colorants and scents, and then pour into a mold. 
Soap will arrive in a bubble wrap/carton but please do not expect it to arrive in perfect shape due to delivery handling. Thank you for your understanding. Happy soaping!
Ingredients: Water, Sodium Palmate, Sodium Laurate, Sodium Stearate, Glycerin, Refined Sugar, Sodium Lauryl Sulfate, Propanediol, Polyethylene Glycol, Tetrasodium-EDTA, Honey
Shelf Life: 3 years
CAUTION: Please be sure to practice safety measures when using this product.
Limitation of Product Liability/Product Safety/Product Information 
Our products are only meant for the use stated in the description. Raw Essentials is not responsible for any misuse, accidents, or mistakes made in the use of our products. We make an effort to provide as much information as we can on our products. We are not responsible for your understanding on how you use our products. You MUST do your own research and conduct experiments for your desired results. 
Recommended Use:
1. Slice into smaller chunks and place in a microwavable container.
2. Heat in 15 to 30 second intervals. Stir constantly until all chunks have melted.
3. Add in colorants or fragrance.
4. Pour into a mold. Spray alcohol to pop bubbles.
5. Set aside to cool and harden for 4 hours or leave overnight for best results!